Gas spring, because of its compact body and strong force make it possible to do a simpler die design.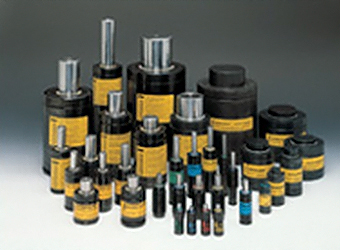 KALLER gas springs are products of Strömsholmen in Sweden. Ogihara Bussan is the exclusive distributor of KALLER gas spring in Japan. Strömsholmen is the maker which has sold self-contained gas springs for press dies for the first time in the world. It boasts of high quality, safety and excellent services based on achievement over the year. Indeed, KALLER gas springs are used in automotive industries, electric industries, press die industries and plastic mold industries worldwide, and have the greatest share of gas spring industry in the world. Gas spring
LINE UP
There are more types of gas springs than anywhere else as result of research and development over the year. The best standard is available for every spot in need. The following are summaries of each type to be consideration.
POWER LINE X type NEW
X170/350/320/500/750/1000/1500/2400/4200/6600/9500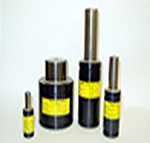 Compared with standard TU type, this type can bear heavier load and is more compact in size. It depends on the size, but this type can produce about 1.3 to 2 times as much power when loaded and the length is shorter by 20mm to 72mm. It does not bear so much load as a CU type does, but it can cope with wide range of usage because its stroke cover up to 125mm.
TU type
TU250/500/750/1500/3000/5000/7500/10000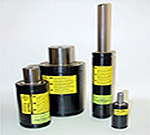 Gas Springs of ISO standard 11901 are based on this type. All the ISO models of other gas spring makers are manufactured according to this type. This type has the most various kinds both in sizes and in stroke lengths. This type is also officially adopted as a standard and used in great number by automotive companies or other companies of all sorts.
SUPER COMPACT type
CU420/740/1000/1800/2900/4700/7500/11800/18300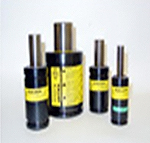 Compared with standard TU type with the same outside diameter, this type can have a greater load. (The initial force of TU250 is 2.51kN while that of CU1000 with the same outside diameter is 10.1kN). Through the stroke range is 50mm at longest, this is the most compact type in our line-up with plenty of load capacity.
LOW COMPRESSION type
TB750/1500/3000/5000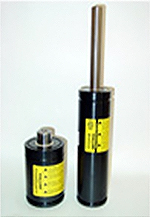 This type has smaller compression ratio and flatter character than a standard TU type, so it can stand longer life time. The body of this type is designed to be bigger in order to decrease compression ratio. This type is one size bigger than TU type, so make sure of the size in the design process. (TB750 has the same outer diameter as that of TU1500). Beside, there are special types such as a high frequency type, a hollow rod type or a high-temperature type.
ROLLER CAM, FLEX CAM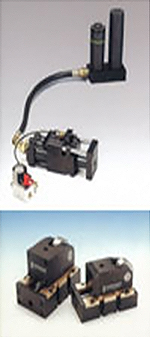 Roller cam has a roller on the slider side and enables cam piercing process at any angle. By adopting a driver with a secondary-curve form, it can be used as a noiseless cam and can prevent pounding noise at the time of impact of the die. As to a flex cam, a driver and slider are connected by a hose with high-pressure resistance, and hydraulic equipment using high-pressure nitrogen as a cam return and safety function. It can be used in any position. This can easily fit into an inverted part, where a conventional type need a double cam, so drilling processing is possible even at a spot too narrow to install a driver in.
SPRING PLUNGER type NEW
EP2-16//EP2-24//EPS2-24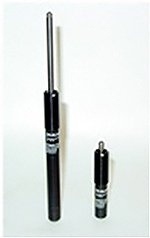 This is spring plunger type of gas spring. With EP16, you can choose either P1.5 or P2.0 for the M16 threaded part. EP24 and EPS24 correspond only to M24xP1.5.
KS250/500/750//SL750/1500/3000/5000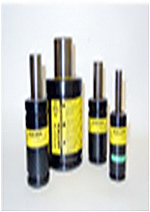 K type is shortened TU type with total length. It depends on the size, but the total length is shorter by 35mm to 60mm. KS type is shortened by removing a gas filling port at the lower parts of the side of the cylinder. It also depends on the size, but the total length is shorter by 20mm to 57mm. SL type is the only type with inch stroke. It corresponds to inch standard products of the U.S.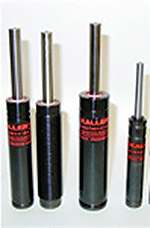 There are various types including M150 type with the diameter of 25mm, MM150 type with M28xP1.5 threaded body, ISO standards MC150 type, R19 type with the diameter of 19mm and R12 type with the diameter of 12mm. This type can be filled the gas up to 17.65MPa.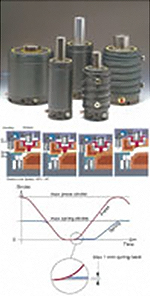 In case of conventional gas springs, the speed of a return stroke of piston is the same as the opening speed of press. With this new type, you can control the timing and the speed of return stroke of a piston at the bottom dead center. By controlling a return stroke, you can prevent deformation, wrinkles or cracks of products.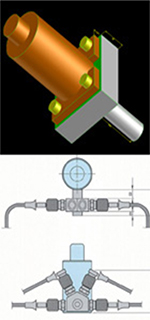 We have started hose system arrangement drawing service with regards to hosing of gas springs. We draw up plot plan of hose joint and hoses according to our customers' requests. We can cope with two-dimensional and three-dimensional drawings. Feel free to consults us about design assistance.