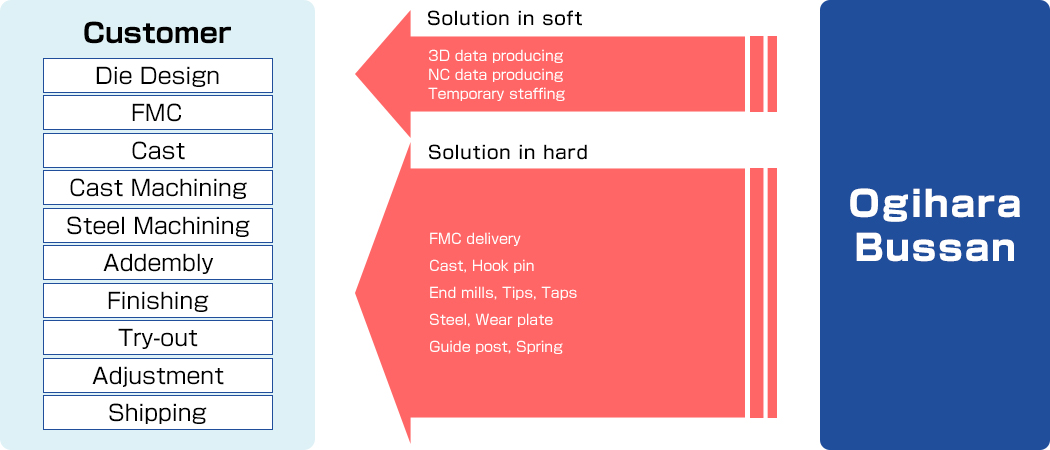 One-Stop service for die manufacturing
We offer one-stop service for die manufacturing with the best procurements competence in the area. Everything necessary for die manufacturing is available at our company, including tools, equipment, CAD/CAM, die parts, materials, cast metals or shop utility. In addition to hardware service, we do our best to provide better software service ranging from 2D, 3D CAD data preparation to the dispatch of die design engineers.
Supply of useful technical infomation
Ogihara Bussan keeps eye in our customers' production site and make suggestions for production cost reduction, labor saving, energy saving or quality improvement. We are also ready to prepare special tool and to offer CAD/CAM assistance to our customers.
Introduction of overseas technology and foreign products to domestic manufactures
Ogihara Bussan is the exclusive agent in Japan for Strömsholmen in Sweden. We deal in KALLER brand gas springs for die makers nationwide. We continue to introduce first-class foreign products to our customers. Ogihara Bussan, with its know-how about import business gained over the year, can be trusted with the procurement of oversea technology and foreign products. Feel free to contact us about any foreign products that you are interested in.